Revolution
is back with
Star Of The Week!
where the
RW Universe
will be choosing their
Star for the Week
from the list of nominees.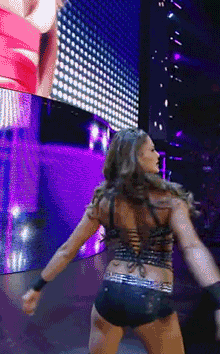 Eve Torres
Eve Torres
never fails to impress, but this week she
outdid herself and sent Revolution Alumni "Asian Sensation"
Gail Kim packing by winning the
Title VS Career
match on
Friday Night Rebellion
. Not only that, but she managed to retain
her X-Division Championship at the
Hell In A Cell PPV
, continuing
her Reign of Dominance.
Will Eve be your
Star Of The Week?
Rosa Mendes
Rosa Mendes
was on a Roll this week. After making it all the way to the Finale on the hit Television show
Breaking Ground,
she managed to beat
Genesis Women's Champion
Eva Marie and Cameron Lynn in impressive fashion, becoming the
winner
of this Season.
But will Rosa be your
Star Of The Week?
Alicia Fox
Alicia Fox
shocked the RW Universe this week. After being absent for weeks and reports of an injury, she returned at the
Hell In A Cell PPV
and officially became the
new
General Manager of Genesis
, costing Shane McMahon his job.
Is Alicia going to be your
Star Of The Week?
Carmella
Carmella
didn't struggle to impress anybody in the past weeks, but more than ever she faced Devin Taylor and SoCal Val on separate occasions, winning both matches after making her glorious return to
Genesis
, aligning herself with now
Women's Champion
Eva Marie and taking out the then Funkadactyls.
Is Carmella going to be your
Star Of The Week?
Asuka
Newcomer
Asuka
pulled all the attention to herself after making her surprise Debut on
Genesis
, facing fellow "Rookie" Peyton Royce in a winning effort. Asuka impressed with her quick and aggressive, yet athletic Moves.
Will Asuka be your
Star Of The Week?
Eva Marie
Eva Marie
has promised to make a name for herself when she Debuted on the
All Red Brand
Genesis
and she is doing just that. Aside from aligning herself with Revolution Veteran Carmella and being runner-up on Breaking Ground, Eva Marie captured the Women's Championship, defeating Naomi at
Hell In A Cell.
This week was no different, because Eva's reign continued with her defeating Brittany after issuing an Open Challenge for next week's
Genesis
.
Will Eva Marie be your
Star Of The Week?