Welcome to Revolution Wrestling's newest column, Star of The Week. Where we have the fans vote on who they think deserve to be our Star of The Week.
This week was a very shocking week. We had surprise wins and returns. Many divas went to a new level and proved that they are not here for friends and made an name for theirselves. Who had star performances? Find out below!
1st: We have
PAIGE
. After being gone for a while she came back to the ring by fans voting her out of the other 3 options to face Revolution Wrestling's World Champion
Trish
. Paige went on to defeat Trish with her finisher Paige Turner making her victorious over the champion. Will Paige returning and getting a win over the champion make her Star of The Week?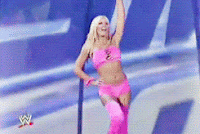 2nd:
TORRIE WILSON
. Torrie teamed up with Trish on Evolve to take on
Angelina Love
and
Velvet Sky
. Torrie ended up getting the victory after a submission. Torrie celebrated with Trish then ended up turning on her. Will Torrie be the Star of The Week?
3rd:
ALEXIS LAREE
returned after being pushed off a wheel chair by
Gail Kim.
Alexis came back and had a full out brawl with Gail Kim. She showed that despite the injury she had she's still a fighter. Will Alexis be the Star of The Week?
4th:
EVE TORRES
has been on a role this week. She took on all three members of The BFFs which are
Summer Rae
,
Sasha Banks
, and
Charlotte
. Eve faced Summer Rae in a 2/3 Falls match and won the match still despite the 3 on 1 advantage. After losing to
the Womens Champion
Layla
at TLC, Eve is showing that she do not need a title to be dominant in the ring. Will Eve's streak continue? Will Eve be the Star of The Week?
So now we turn it over to you, the fans, and let you guys decide who this week's Star of The Week will be. Cast your votes below! Poll will be closed after 24 hours!
Congratulations to Paige on winning Star of The Week! Paige garnered her with leading the polls with 18 votes! Eve Torres would come in second with 7 votes. Congratulations to Paige on being named Star of The Week!